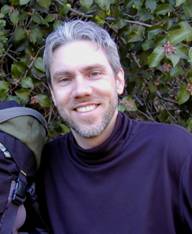 Dr. Bradley John Monsma
Professor of English
Bell Tower - West Wing
Phone: (805) 437-8948
Email: Brad.monsma@csuci.edu
Ph.D. English and American Literature
University of Southern California , 1995
MA English and American Literature
University of Southern California , 1991
BA English
Calvin College , 1989.
John Muir once wrote that if you tug on one thing, you find it hitched to everything in the universe. Brad Monsma adopts this ecological point of view in his teaching, writing, and life, following pathways from studying tricksters in oral and written literatures to immersing himself in nature writing and environmental history. Students in his classes learn to ask questions and to seek experiences that reveal the joints of the world, where things come together, where they articulate with flexibility and creativity.
He has published articles on multicultural literary theory, cross-cultural reading, religious identity, rock art, and the history of bears in Southern California . He has also written The Sespe Wild: Southern California's Last Free River ( University of Nevada Press , 2004), the first work of literary nonfiction about Ventura County 's magnificent backcountry.
Prior to Channel Islands , Monsma was Professor of English at Woodbury University where for ten years he taught literature, writing, and a field-based, team-taught course called California Natural History and Nature Writing. He also served as Dean of Faculty.
Monsma can often be found on foot, surfboard, or mountain bike seeking contact with the wild and with non-human critters, and he is most passionate about kayaking wild rivers from Los Angeles County to British Columbia .